Odd sandstone formations highlight Medicine Rocks State Park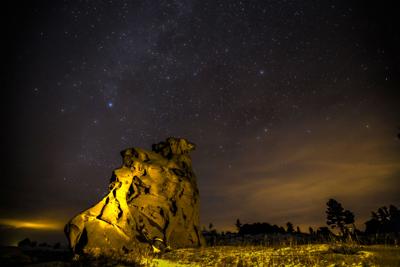 The Montana State Parks Foundation is publishing a weekly showcase of Montana State Parks' 55 properties.
This week's story takes travelers to Medicine Rocks State Park, a series of natural rock formations considered sacred by local Native American tribes.
The park is located along Highway 7 in eastern Montana among rolling hills and prairie. Sandstone pillars, caves archways and towers rise out of the plains with small patches of pine forest in some areas.
The features were formed around 60 million years ago when the Great Plains were covered by an immense inland sea. The edges of the sea were swamp-like and forested with a shallow river that cut through carrying sediment from the forming Rocky Mountains. Portions of this sediment was deposited along the path of the river creating sandbars.
Over the years the sandbars turned to sandstone where wind, water and temperature extremes took their toll. The stronger materials stayed while the less resistant material was eroded away. The rock that was able to withstand millions of years of erosion now makes up the odd formations found at Medicine Rocks State Park.
Those looking to enjoy the park overnight will find 12 campsites nestled among the Swiss cheese-like rock formations. But be sure to arrive early as all of these sites are first come, first served.
Things to do
Hike through the prairie and forest or even climb into caves. Take pictures of the rock formations. Enjoy a picnic and the ever-changing landscape. Keep your eyes open for wildlife including mule deer, antelope, Woodhouse's toads and sharp-tailed grouse. Stargaze on a clear night, or plan a visit during a meteor shower.
Listed on the National Register of Historic Places, Medicine Rocks is also an important cultural site for Native Americans, once used as a vision quest location, meeting place and lookout for bison or enemies. The formations are covered in art, also called pictographs.
Did you know?
Many early settlers and cattle drivers carved their names or initials along with the dates they visited into the rocks. You can still find many of these, and a complete list of the names can be found in the nearby Carter County Museum in Ekalaka.
Theodore Roosevelt visited the area in 1883 and called it "as fantastically beautiful a place as I have ever seen."