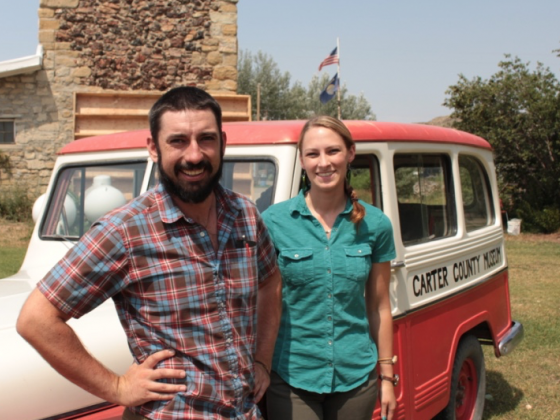 September 8, 2017 — Eric Dietrich for the MSU News Service
EKALAKA — On the lawn outside the Carter County Museum on a summer Saturday afternoon, a circle of wide-eyed children cluster around the jaw of a robotic Tyrannosaurus rex.
A local rancher pulls a lever on a set of hydraulic lines running to a nearby skid-steer, and cast metal teeth swing shut, slicing a watermelon in two. The eyes get even wider.
It's just part of the festivities at the museum's fifth Annual Dino Shindig, an event with deep ties to Montana State University and its Museum of the Rockies. The weekend-long event has become an institution in this population-350 town tucked away in Montana's southeast corner.
Inside the museum, its walls built with chunks of petrified wood, visitors marveled at not only the usual county museum fare of saddles and antique rifles but also dinosaurs — a nearly complete hadrosaur skeleton, a triceratops skull, a replica T-rex crouching at eye-level. Down the road, inside a Lutheran church, an international lineup of paleontologists, among them John Scannella, Museum of the Rockies' John R. Horner Curator of Paleontology, lectured on everything from triceratops to "Jurassic World" to prehistoric turtles.
"It was amazing to see so many people come out, attend the presentations and join in the activities," Scannella said. "Ekalaka is a wonderful place to speak about paleontology."
"We can put this part of the state back on the map in the minds of everyone in Montana," said Carter County Museum director Sabre Moore.
After last year's go around — which featured a speaker lineup headed by Kirk Johnson, the director of the Smithsonian Museum of Natural History — state tourism officials named the Shindig their event of the year, picking it over juggernauts like the 4,000-participant Run to the Pub in Bozeman.
It's easy to see why, looking around at the crowd of more than 400 — with attendees from as far away as Oregon, Texas and Virginia. Beyond the festivities, though, is another story: how land-grant MSU, six hours away in Bozeman, helped lay the groundwork for this small-town success story.
The MSU link starts with Nate Carroll, 28, a ranch-raised Ekalaka native and the museum's adjunct curator. The robo T-rex was actually one of his high school science projects, an early fruit of the passion that led him to enroll in MSU's paleontology program in the Department of Earth Sciences in the College of Letters and Science in 2007.
Carroll, a fourth-generation Bobcat, thrived at MSU — and not just in classes for what he calls the "world's best undergrad paleontology program." He wrote for the Exponent student newspaper, worked with the MSU Alumni Foundation and was voted homecoming king in 2010.
What's more, he said, he made friends who were part of such student groups as the university's Engineers Without Borders chapter, which has been sending students abroad to work in western Kenya for more than a decade. He was only tangentially involved there, he said, but as he got into his master's degree program in Bozeman he wondered if a similar effort could make a difference in his eastern Montana hometown, which has seen its population decline by half since the 1960s.
"I just had never really thought about nonprofit things before," said Carroll, who is now working on a doctorate in paleontology at the University of Southern California. "A lot of those conversations I could see playing out out here too."
Ekalaka, as it turns out, is a paleontology mecca of sorts, thanks to geology that makes its surroundings ideal for hunting fossils from the late Cretaceous. It's also home to the Carter County Museum, the oldest county museum in the state. Spending a summer back home in 2012, Carroll said he started thinking about the possibilities for both academic research and boosting local tourism.
So, that fall, Carroll came back to MSU and started organizing volunteers to spend the next summer in Ekalaka revitalizing the museum. Moore, a Wright, Wyoming, native then finishing up a history degree, was one of them.
"And," she said, "I absolutely fell in love with Ekalaka."
Moore, 26, who also minored in museum studies and Native American studies in MSU's College of Letters and Science, has since completed a master's in museum studies through an online program at Johns Hopkins University. After stints at museums in Wyoming, Washington, D.C., and Istanbul, Turkey, she was hired as the Carter County Museum's full-time director last year.
Even before they left Bozeman in 2013, Carroll and Moore's group of five volunteers met at a frozen yogurt shop to start planning the first shindig. It would be a good way, they thought, to bring together locals and researchers from paleontology field crews working in the area, plus maybe a few visitors from Billings or Bozeman.
The team, mostly graduating seniors with leadership experience from student groups, planned kids' activities and lectures. They arranged for a Saturday-night dance and organized a field day to take attendees out prospecting for fossils. They got a grant from the state tourism office to do some advertising, and one of them, a film student, put together a TV commercial.
To their amazement, 300 people showed up to the first shindig.
"I did not expect it to be as big as it was that first year," Moore said. "We doubled the population of the town, basically."
They've kept it up, too. The museum has had teams of MSU students out to Ekalaka every summer since, cleaning dusty storage spaces, building new exhibits and giving the small town a dose of youthful energy. Carroll and Moore are now raising money for a $4 million expansion to the museum.
Some of their volunteers, whom they put up at a local hunting lodge, have come back for second or third summers. A couple, like Moore, moved to town full-time.
Carroll and Moore credit the Bozeman campus and Museum of the Rockies with helping them find passionate volunteers willing to work, in some cases, as many as 80 hours a week during their stints with the museum.
"There's a great pipeline, basically, from MSU and MOR, of talent and resources," Carroll said.
Among other projects, Scannella said, the two museums are working on developing a mobile science lab to use for education outreach.
"I think that as we continue to work together we're going to discover amazing things, be able to inspire life-long learning and engage a lot of people in the incredible past, present and future of Montana," Scannella said.
"The caliber of volunteers we had, and do have, is very unique," Moore said. "It's not something you can find just anywhere.
"Everything we did that first year," she said, "we've been able to build on."
Contact: Michael Becker, MSU News Service Director, 406-994-4565 or michael.becker@montana.edu.